What to Do in Cabo San Lucas: 25 Activities
This travel guide suggests what to do in Cabo San Lucas, one of Mexico's top destinations.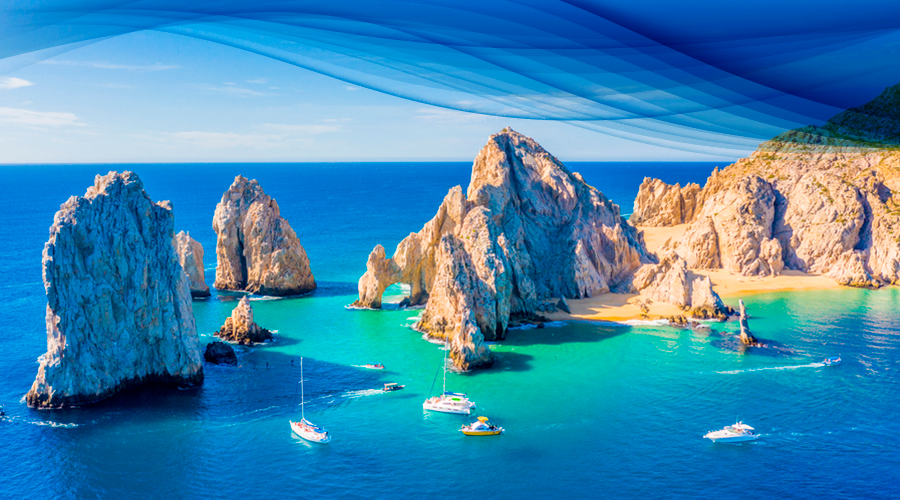 Among the several beautiful places Mexico has to offer none really compares to Cabo San Lucas. It has everything your heart could desire: gorgeous beaches, adventurous activities, and delicious food.
If you are planning a vacation to this stunning beach destination, be sure to check out our list of what to do in Cabo San Lucas.
Let's take a look at some of the incredible things you can do while visiting Cabo.
1. Try Your Hand at Sport Fishing
If you have never gone sport fishing, Cabo San Lucas is the perfect place to try it out. This daytime adventure will give you the chance to catch several types of unique fish that abound in the waters around Los Cabos. Plus, you will be able to enjoy a tasty meal afterward.
2. Go Whale Watching
Humpback whales pass through the Baja Peninsula in the winter, making Cabo San Lucas the ideal place for whale watching. This activity usually lasts 2-3 hours and is great if you are traveling with the family.
3. Go Snorkeling
If you have always dreamed of playing beneath the waves, this is your chance. Try snorkeling at Santa Maria Bay and enjoy colorful corals and schools of shiny fish.
4. Go Scuba Diving
If you have already gone snorkeling and want to take things to a higher level, scuba is the best activity to try next. This experience allows you to dive deeper than ever and see unique fish beneath the ocean's surface. About 100 km from Cabo, Cabo Pulmo National Park offers some of the best underwater seascapes in the world.
5. Run a Marathon
Held in late winter, this race features great weather, unbeatable scenery, and the chance to cool down in the ocean right after crossing the finish line. The Los Cabos International Marathon is a perfect chance to combine sports with vacations!
6. Swim With Whale Sharks
If you still have some energy left after the marathon, swimming with the whale sharks will surely get your adrenaline pumping again. This incredible diving adventure lets you get up close with these beautiful creatures. Talk about an awesome photo opportunity!
7. Visit the Botanical and Cultural Gardens
A great way to spend a day is strolling among the cacti at the local botanical gardens. Learn about some unique species that you will not see anywhere else.
8. Catch a New Movie
In need of a quiet day? Head over to Puerto Paraiso Mall and catch one of the many feature films shown at the theater.
9. Go Golfing
Love golfing? There are plenty of world class golfing greens in Cabo San Lucas. Grab your gear and get ready for a hole-in-one.
10. Visit Todos Santos
Todos Santos is a quaint town founded as a mission in 1724. Its artisanal markets are the perfect places to visit if you want to pick up unique souvenirs to bring home to your family and friends.
11. Ride a Water Taxi
Who said all taxis are cars? In Cabo San Lucas, you can get from A to B in a truly unique vehicle.
12. Lounge on Lover's Beach
Lover's Beach is one of the most popular beaches in Cabo. The warm waters, golden sands, and stunning views will have you falling in love with Cabo in no time.
13. Take a Luxury Yacht
There is nothing more romantic than holding your significant other's hand and watching the sun go down. Except, perhaps, doing so on a luxury yacht. Take a sunset yacht and finish off an active day in Cabo in a romantic setting.
14. Enjoy Some Italian Food
This might sound counterintuitive, but the Italian food in Cabo is to die for. We recommend checking out Salvatore's, heading over to the Doc Wine Bar, or trying the oven-baked pizza at Captain Tony's.
15. Shop at the Beach
One unique aspect of Cabo culture is the local artisans strolling the beaches offering their unique wares. Buy some neat souvenirs as you relax on the beach getting a suntan.
16. Tour the Marina
The marina in Cabo San Lucas is worth a visit in and of itself. Stroll along the pier and check out the many shops and restaurants that line the oceanfront.
17. Go Stand-Up Paddle Boarding
If surfing seems a little too extreme but you still want to get out on the waves, you can go stand-up paddleboarding. This experience allows you to drift along the beach, getting beautiful views of the shoreline as you dip your toes in the water.
18. Dance The Night Away at El Squid Roe
The nightlife in Cabo San Lucas is unbelievable, and one of the best clubs to try is El Squid Roe. With the flashing lights and boppy music, you'll be sure to have a night to remember.
19. Go Ziplining
Some people visit Cabo to decompress. Others go to live intensely and participate in rip-roaring outdoor activities. If you want to add some adventure to your stay, Cabo Adventures' zipline tour is an ideal option.
20. Check Out Local Art
There are some truly incredible art galleries near Cabo, and if you love gallery walks, a day tour to nearby San Jose del Cabo will not dissapoint!
21. Stay at a Luxury Villa
There is a unique selection of luxury villas sprinkled around Cabo. They usually include incredible amenities, like stunning ocean views or private chefs, and make your trip to Cabo all the more special.
22. Try the Best Mexican Cuisine
You can't go to Mexico without trying some of the local cuisines. We recommend sampling some of the incredible fish or shrimp tacos in the area. Have them with a classic margarita for the true Mexican experience.
23. Hike the Pedregal
During your stay in Cabo, you won't want to miss a chance to hike the Pedregal. This gorgeous mountain offers stunning views of the city below. Plus it's a great way to work off all the tasty fish tacos you will be enjoying.
24. Relax at Medano Beach
One of the best beaches in Cabo San Lucas is Medano Beach. This gorgeous beach is the perfect place to splash in the waves or simply sunbathe and take in the view.
25. Spend a Day at Flora Farms
If you love the outdoors, you don't want to miss the chance to spend a day at Flora Farms. This organic farm is packed with fruits, veggies, and flowers. You will surely learn something new, and you can taste the delicious produce, too!
Plan What to Do in Cabo San Lucas
With this extensive list of what to do in Cabo San Lucas, you will be able to plan the perfect getaway to the area. Pick and choose from this incredible list of activities and make your dream vacation come true.
Ready to plan the perfect vacation to Cabo San Lucas? Book your stay at one of Pisces Luxury Collection's unique villas and get ready to enjoy the best getaway of your life.