Beach Vacations: Top 30 Destinations in the World
If relaxing on white, sandy shores with a cocktail in your hand is your idea of a vacation, you will want to read this list.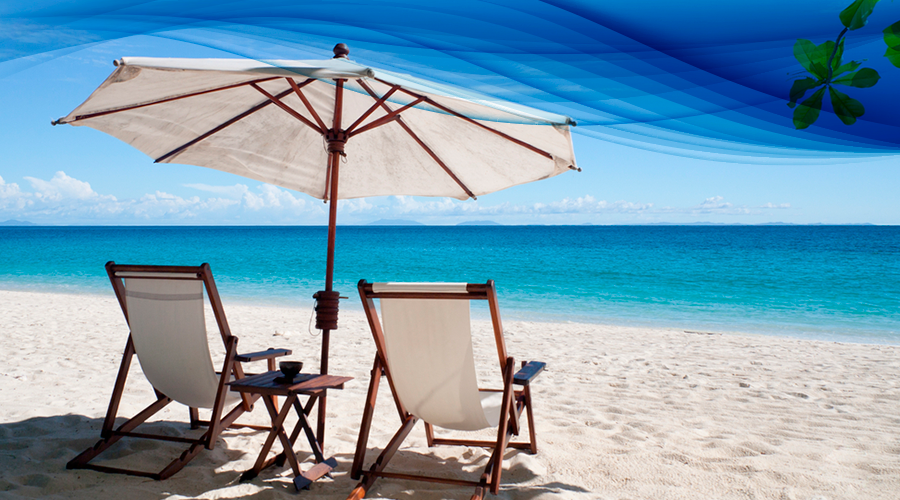 There are so many gorgeous beaches around the world where you can go on a vacation that choosing one may seem overwhelming.
To help you decide, we have put together a list of 30 of the world's best beach vacations. Check out these stunning beaches for families, singles, and everyone else, and get ready to jet-set on the vacation of a lifetime.
1. Algarve, Portugal
Portugal is one tourist destination that is not often on people's radars. However, you won't want to miss the chance to explore Algarve and the numerous little beach towns lining this part of Portugal.
We recommend exploring the green and pink caves found at Praia de Benagil. Or if you just want to catch some sun, you might consider relaxing and unwinding on the pink sands of Cacela Velha.
2. Budelli, Italy
Budelli is a beach in Italy that simply can't be left off the list. You may ask yourself why. Because, unlike most beaches, Budelli's shore is made up of gorgeous pink sands.
This beach is located off the northern part of Italy. Therefore, it is best to visit during the hotter months of the year, August and July, so that you can enjoy swimming in the warm waters.
3. Tavarua, Fiji
This is an island shaped like a heart, which is just one of the reasons why we love it. Tavarua boasts crystal-clear blue waters and gorgeous white sandy beaches. The remote location has an aura of seclusion and gives you a feeling of luxury.
4. Alif Dhaal Atoll, Maldives
Aah, the Maldives. Few people would pass on an opportunity to visit this stunning island nation and the beautiful, traditional huts lining the waterfront. Alif Dhaal Atoll is one of our favorites due to the colorful reefs and over-the-water bungalows.
5. Fraser Island, Australia
There are numerous beaches for family vacations in Australia, but if what you are after is a romantic getaway, be sure to check out Fraser Island. It is one of the longest sand beaches in Australia and is located just off Queensland.
6. Bermuda
With so many beautiful Caribbean islands to choose from, it is hard to put just one on the list. However, Bermuda is one of our favorites thanks to its turquoise blue waters and historic shipwrecks lining the shore.
If you don't want to spend all your time on the beach while in Bermuda, there are plenty of other activities for you to try, too. Try swimming with the pigs at Hog's Bay or diving in the island's fantasy cave.
7. Seychelles
Seychelles is a series of little-talked-about islands, but they are not to be forgotten once one visits them. These islands are located between Madagascar and Kenya and offer beautiful rock formations situated among crystal clear water for visitors to enjoy.
8. Cinque Terre, Italy
Italy makes the list again with Cinque Terre. Cinque Terre is a series of beautiful and quiet beachside towns where you can have scrumptious Italian food and walk pedestrian-only streets to your heart's content.
9. Rio De Janeiro, Brazil
Rio De Janeiro is best known for its Carnival celebrations, but Copacabana beach shouldn't be missed, either! This incredible city is situated on the shoreline, meaning you can get both the urban and beach vacation experiences.
10. Cabo San Lucas, Mexico
Cabo San Lucas is one of the best places to visit for a luxury vacation ripe with outdoor activities. Spend the day scuba diving, swimming with whale sharks, and ziplining over the desert. Then, at the end of the day, relax and unwind in your private villa on the oceanfront.
11. Milos, Greece
Milos makes this list thanks to its unique features, including stunning white rock formations that transform this beach town into a beautiful maze of coves and caves that you can explore.
12. Big Sur, California
If you wish to get out of town and go camping, Big Sur is a great place to visit. This beach region offers stunning views of the stars and is a great place to spend the night in the great outdoors.
13. Dubrovnik, Croatia
Croatia may not be the first place many people think of when they plan a beach vacation, but we think it should. Dubrovnik offers beautiful historic beaches that are lined with ancient ruins.
14. Miami, Florida
Miami is one of the best places to visit in the United States if you love nightlife and sunbathing on the beach. A great plan in Miami is to spend the day sipping on mojitos on the oceanfront and then hit the disco when the sun goes down to keep the fun going.
15. Ko Phi Phi Leh Island, Thailand
There are few places as remote and exotic as Ko Phi Phi Leh Island in Thailand. Not only are the waters a brilliant blue, but the stunning mountain ranges rising up around you will leave you feeling awestruck.
16. Playa Rojo, Peru
Playa Rojo in Peru was named in this list for its unique red sand beaches. Enjoy a stroll along the beach and take in the beautiful views of the Pacific on this one-of-a-kind beach.
17. Capri, Italy
Capri is an Italian island famous for its craggy shoreline. It is also a great place to take a catamaran tour and be inspired by the wide-open views of the beautiful Blue Bay.
18. Big Island, Hawaii
If you want to visit some of the best hiking beaches in the world, Big Island is the place to be. You can enjoy an invigorating hike up the mountainsides in the morning and then cool down in the brilliant blue waves on the beach in the evening.
19. Santorini, Greece
Santorini feels like something out of a storybook with its beautiful architectural buildings rising above the sea. Not only is the beach a great place to get some much-needed R&R, but the many classic villas and penthouses nestled in the hills make for an incredible vacation.
20. Tulum, Mexico
If sipping margaritas by the ocean while you contemplate some ancient Mayan ruins is your kind of vacation, Tulum is the place to go. Mix a day of relaxing on the beach with outdoor adventure on a vacation to Tulum.
21. Harbour Island, Bahamas
The Bahamas are relatively affordable compared to other luxury vacation spots, and they are located just a day's sailing away from Florida. Take a cruise out to Harbour Island and enjoy the expansive, sandy beaches and sunny island weather.
22. Oahu, Hawaii
Another great place to visit for families and singles that love to hike, Oahu offers numerous opportunities to get outdoors. Check out some of the island's volcanoes or simply relax and unwind on the gorgeous, seemingly endless beaches.
23. Bora Bora, Tahiti
Bora Bora is famous for its turquoise waters and over-the-water bungalows. This incredible island offers numerous opportunities for you to explore nature, including volcano hikes and scuba diving adventures.
24. San Andres, Colombia
The Hawaii of Colombia, there are few places more romantic than San Andres. This stunning island is actually located closer to Panama than it is to Colombia, but either way, it's a great place to soak up the sun on the beach.
25. Anguilla
Anguilla is one of the quieter islands in the Caribbean. While it does not have the same fame as Bermuda or Aruba, Anguilla still gives you access to the beautiful clear blue waters that visitors know and love.
26. St. Lucia
St. Lucia is unique among many of its peers in that there is far more to do than just relax and unwind on the beach. This Caribbean island is famous for its beautiful waterfalls, so be sure to take a hike out to one of them during your visit!
27. Bali, Indonesia
Bali was used as the backdrop for the modern classic movie Eat, Pray, Love. And for good reason! This stunning beach offers beautiful views of the ocean while giving you a feel for the authentic and rustic Indonesian culture.
28. Koekohe Beach, New Zealand
Koekohe beach is famous for the beautiful Moeraki Boulders that line the shore. These round stones are scattered across the landscape and weigh several tons. They took millions of years to form and today stand as a beautiful symbol of what nature is capable of.
Visiting this beach is the perfect opportunity for photography. For getting the best shots, we recommend visiting during November through January in the early morning or late afternoon.
29. Belle Mare, Mauritius
Another beach you don't want to miss is Belle Mare, Mauritius. Mauritius is a small island off the coast of Africa, in the southwestern Indian Ocean, and is a great place for anyone who loves admiring coral reefs and colorful fish.
Mauritius has a small number of luxury villas, making it a great place to visit if you are after a more private beach vacation. Plus, the coral reef just offshore at Belle Mare creates a beautiful private lagoon for you to relax and unwind.
30. Malta
Malta is a beautiful island nation located between Sicily and Northern Africa. There are three islands in this incredible nation, but Malta is our favorite thanks to its gorgeous sand beaches and glistening blue waters.
Beach Vacations for Unwinding and Relaxing
With all these incredible beach vacations at your fingertips, it's time to plan a getaway that leaves nothing to be desired. Whether you are traveling solo or with the whole family, you are sure to find a destination that strikes your fancy.
Ready to plan the perfect beach getaway? Book a stay at one of Pisces Luxury Collection's unique accommodations. Nothing compares to falling asleep to the sounds of the Sea of Cortez in one of our stunning luxury villas.